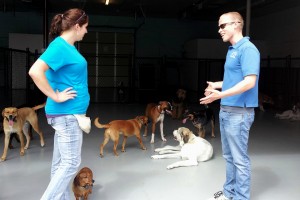 For individuals and organizations looking for beginning or advanced training in the area of dog behavior, Altitude Dog Training has you covered. Veterinarians, community organizations and anyone interested in consulting and hands-on work will benefit from Brian's expertise and guidance in this area. We offer everything from seminars and video presentations to hands-on work customized for you and your organization.
As a community of professionals, we benefit greatly from collaborating with one another. If your company or organization is already professionally working with dogs and would like to supplement or strengthen the work you are currently doing, contact us to discuss how we can help. Behavioral Consulting for Industry Professionals includes – but is not limited to – beginning to advanced dog behavior training for dog daycares and boarding facilities, shelters, rescues, veterinarians, as well as individual trainers and behavior specialists. Please contact us for pricing and scheduling. We will work with you to meet your needs and the needs of your organization. Also be sure to check out our specialized workshops below!
Examples of topics that can be covered
How to handle hard-to-handle dogs
Utilizing Pack Walks in canine enrichment programs
Video presentations on the principles of dog behavior
Seminars on canine body language and communication
Stress and fear management and developing personal intuition
Hands-on training for staff members to strengthen handling skills
How to increase safety for dogs and handlers in off-leash playgroups
Staying safe and knowing what to look for when interacting with dogs
How to incorporate Pack Work and behavior modification principles in playgroups
Cultivating and maintaining an empowered presence when working with animals and people
And much more!
The 3-day Balanced Dog Daycare Seminar & Workshop
Do you own or work at a boarding or daycare facility? Are you interested in expanding your knowledge, making life better for the dogs you work with every day, and creating greater customer loyalty and satisfaction? Do you ever wish that you and the dogs who visit your facility could be more at peace? Would you like to experience less barking, reactivity, and aggression between dogs? Ever wanted more in-depth guidance and insight about dog behavior from a specialist?
Specifically designed for boarding and daycare facilities wishing to incorporate more strategic behavioral protocols, this is a cutting-edge 3 day program for enhancing enrichment at facilities that utilize play groups. Years ago, Brian set out to create an entirely different experience for dogs while they stayed at kennels and daycare facilities. In 2010, Brian and his wife, Gina, opened Uptown Dog. Prior to this, Brian was a private trainer who specialized in behavioral problems but was hesitant to open a "daycare" due to concerns he had about how they were typically structured. Thanks to his wife's support and encouragement, he realized that having a behavior center could be a real game changer. Today, their facility provides pack-work based daycare and boarding services that focus on enhancing canine sociability through structured play. The result is a system that yields positive transformations in dogs' behavior, and owners who are very comfortable with their caretakers – having their dogs in good hands gives them peace of mind and you just can't put a price on that!
The 3 day workshop includes lectures and presentations that include extensive video footage, with the majority of the program consisting of hands-on training for business owners, managers, and other staff members. Practical application is key because each facility is very different. Brian works with you to maximize your existing programs and layout to create a more peaceful, calm, and profitable model for your facility. Check out some of the topics below and contact us today for pricing and availability – make sure to schedule ahead of time as we are often booked out well in advance.
What you will learn
How each part of the daily routine – from intake and handling to kennel presence – affects the safety and experience of the dogs and how the people involved in their care can have a profound affect on this outcome
Reducing anxiety and barking in dogs, resulting in a more quiet, relaxed atmosphere
Behavioral assessment and techniques for introducing new dogs to group play more safely
Canine body language – how to read individual dogs, even when they don't give normal "signals"
Identifying specific play styles and their characteristic behavior patterns
Considerations and solutions for dogs that display problem behaviors such as aggression, timidity, and anxiety
Understanding what causes conflict between dogs and how to prevent it
Foundations of pack work and canine group dynamics
What to do when things go wrong
Tools and techniques for reinforcing positive behaviors while reducing jumping, "gate crashing", and hyperactivity
Talking to clients about their dogs' behavior, providing resources, and covering sensitive subjects
Training new and existing staff members how to run play groups
Cultivating personal awareness and intuition… and much more!!
"I am so pleased to have had the opportunity to have Brian come work with me and my staff in our daycare and boarding facility. As a dog behaviorist and daycare owner himself, Brian has a unique perspective and understanding of the challenges associated with playgroups.  He taught us not only tips and tricks to make our groups more functional – he provided the rationale and background information about why all of this is so important and how it fits together.  I highly recommend Brian and Altitude Dog Training to assist anyone who owns a facility and has a desire to take it to the next level."

Debbie Gutierrez
Owner
K-9 Island
Loveland, CO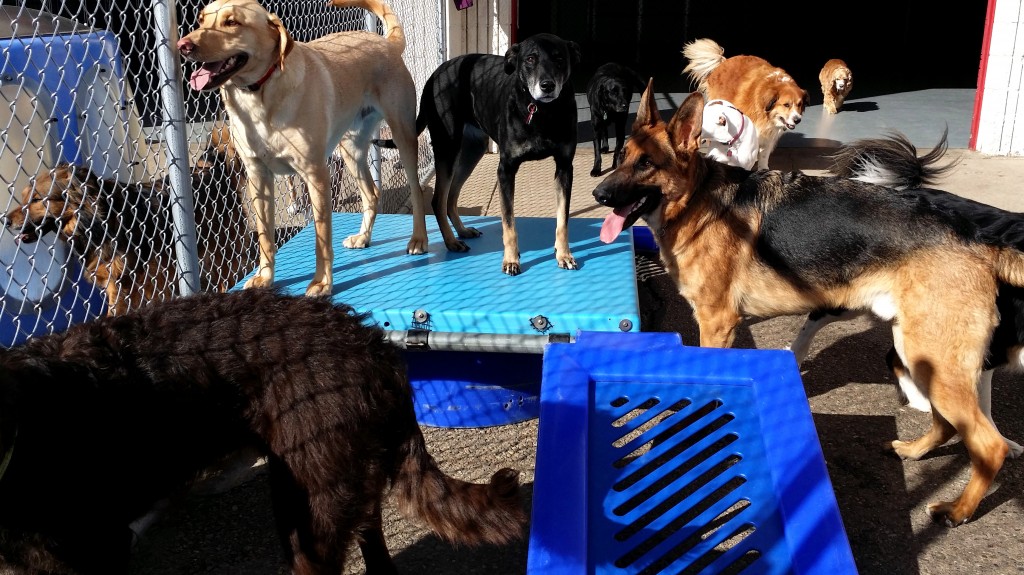 Note: Additional charges may apply for expenses related to distance visits and travel for Behavior Consulting programs